Cultural Promoting Platform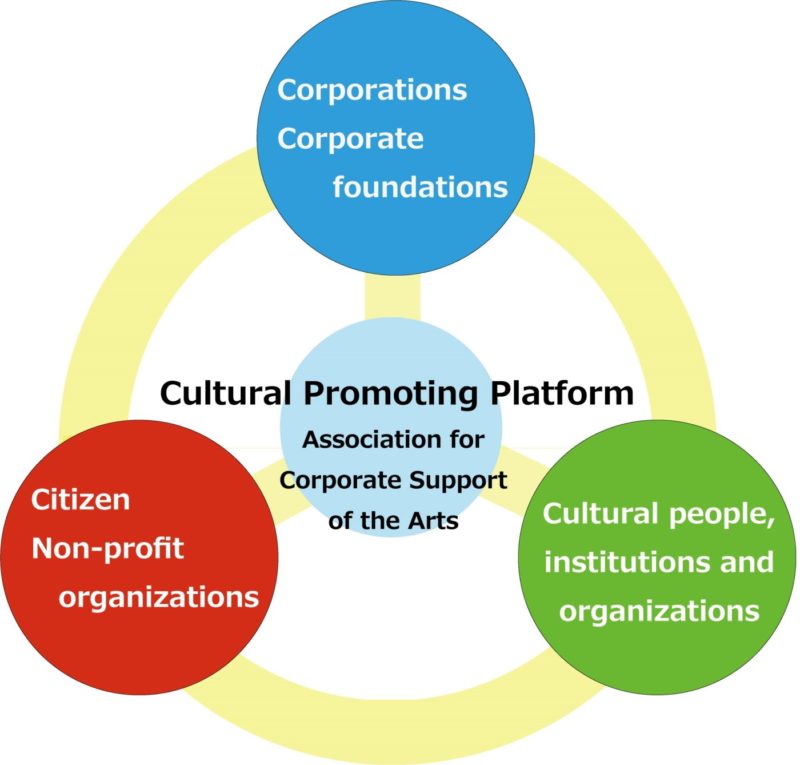 Currently, Association for Corporate Support for the Arts is working towards the establishment of Cultural Promotion Platform led by private sectors.
Association for Corporate Support for the Arts has been developing its activities, such as research study, mecenat awards, in order to promote mainly the creation of society by corporates' art and cultural promotions. At the same time, we have set a grant system in order to create a 'money flow from people to people' by art and cultural activities, and have proposed a cultural policy based on the success of these activities.
However, there are still many issues remained in order for us to develop alliances between corporates and artists, and to build partnerships for art and cultural promotions. Of course, our principle may differ from what artists wish to achieve or the expectations of corporates. The more cultural bearers increase, the more their purposes and values become diverse; this is the current situation. Therefore we are working on 'Cultural Promotion' by sharing what we have in common.
This is why we believe it is necessary to create a space where cultural bearers with various positions can meet and exchange their opinions. We wish to create a platform in which corporates, foundations, arts NPOs and cultural institutions gather, exchange their knowledge and visions, and formulate a flow of people.
It is certain that there is in need of more cultural bearers in the future, as there are increasing number of international cultural exchanges and cultural transmissions across the country, especially towards 2020. And it is hoped that there will be more expectations for corporate mencenat activities.
We should not end this work as a temporary growing momentum, but establish a foundation of coming cultural creation in the future.
【Accepting registry】
Session α: Forming a Cultural Promotion Platform
– Exchanging opinions by corporate mecenat offices and cultrual professionals
Date Sunday, 8th March 2015 11:00 – 12:30 Capacity 50 (first come first serve)
Venue Osaka Business Park, Matsushita IMP Hall
Registry Registry Form https://pro.form-mailer.jp/fms/3e0381ed63707
* This session is a part of the program of 'Culture As Capital – The Creative Economy and Social Creativity' Osaka Conference.
* This registry form is for alll the programs of the conference. Please tick boxes you wish to participate when you register.
* Please note that we do not accept any registry by phone.
【Past Activity】
Cultural Platform Pre-meeting
Date Friday, 24th October 2014 16:00 – 18:00 Participants 24
Venue Sakura Hall, Japan Foundation
Details
●Presentation ①
Joanna SUO (Culture & Media Agency Europe aisbl, Director of Development)
~An example of Cultural Platform (Culture Agora)and current European Arts & Culture ~
●Presentation ②
Byung Kwon LEE (Exective Director of Korean Mecenat Association, South Korea)
~ Current corporate mecenat in South Korea and networking ~
●Discussion Time
公開日:2015年03月08日/最終更新日:2020年03月16日