The Press Meeting
The Press Meeting with New Chairman and President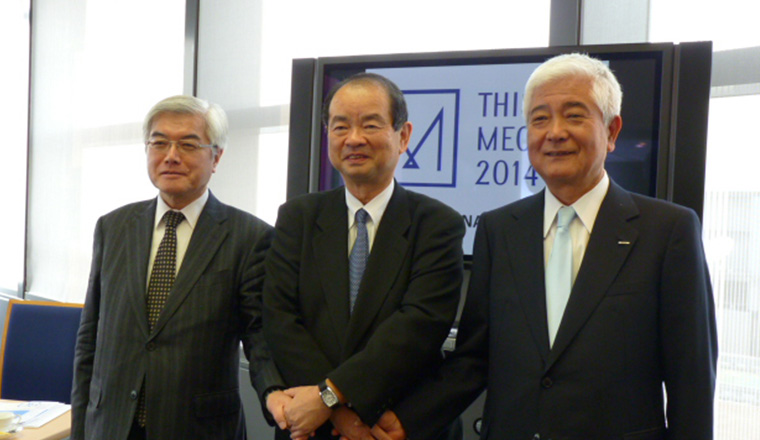 From left: Taneo Kato (executive director), Motoki Ozaki (president) and Tatsuyoshi Takashima (chairman)
On April 10th 2014, the press meeting with our new chairman Tatsuyoshi Takashima and president Motoki Ozaki was held at the main building of Dentsu Co., Ltd. (Minato-ku, Tokyo)
It was taken place in a reception room on the 44th floor where you can enjoy a fabulous view of ocean and have a break with a cup of coffee. Starting with inaugural speeches of the chairman and the president, the meeting moved to a main subject of the association's approaches under a new regime, explained by the president and the executive director, Taneo Kato.
In his speech, Takashima outlined "We will be celebrating our 25th anniversary on March in 2015. Our mission has shifted from simply promoting arts and cultural support by corporations to addressing cultural creation of a society. Our activity fields have definitely expanded in the last twenty years." He also declares that the association will be focusing on international communication, and an establishment of international networks through the conferences held in 2014 and 2015. He commented "what we do does not look exciting, but that's how it should be and will turn to be valuable. We will continue working hard to make more people acknowledge corporate mécénat."
From Ozaki, details of the association's activities were described. "We have named the years of 2014 and 2015 Corporate MECENAT Year of Japan. We will proceed with three major purposes: to introduce a diversity of corporate mécénat associated with various perspectives of culture; to build a culture promotional platform based on a number of networks in different sectors; and to enhance understandings of foreign cultures by respecting them and introducing our corporate mécénat effectively." He emphasized "Corporate mécénat in Japan has reached to the great extent that we can be proud of. Private organizations such as corporations have been taking a lead for supporting Japanese cultures prior to the government. Now, the total amount of corporate mécénat activity fee invested by corporations and corporate foundations is almost equivalent to the budget the government prepares for cultural policies and projects. In order to share this meaningful data among cultural and business leaders as well as to build a cultural network in business sector, we want to organize successful conferences in these two years."
A new certification system This is MECENAT has launched. It aims to enhance recognition of corporate mécénat and will be associated with our Japan Mécénat Award. This year is expected to be very exciting with a full of our new events and projects such as Mécénat Forum and the international conferences.
In addition, Kato has released a policy proposal of "Succession and Development of New Compact – Cultural Creation of a Society ~ Approaches to the Year of 2020." The proposal refers an importance of utilizing Tokyo Olympics and Paralympics in 2020 for Japan's further development in mécénat. An active approach to build the international networks is explained as our task for the Olympics. Especially, he insists to put an emphasis over Asian countries. He also points out about cultural programs held during the Olympic Games that it is vital not to finish them as temporary festivals, but to remain their outcomes with effective cultural systems and infrastructures as legacies after the Olympic Games. Furthermore, the proposal states that it is necessary to enhance regional economics and revitalizations of regional economies by promoting corporate mécénat in Japan. Based on our data that 81.1 billion Japanese yen had been spent for corporate mécénat activity fee, the numerical goal of one hundred billion Japanese yen to reach by 2016 is expressed in the proposal.
After the three's speeches and presentations, some questions raised from the press.
Q1: With This is MECENAT system, you want to visualize corporate mécénat and enhance its recognition. Do you feel that it hasn't been recognized enough?
Ozaki: Particularly for the public, its recognition is limited in an understanding of arts and cultural support by corporations. But in fact, corporate mécénat now has a wider range of contents, purposes, and meanings rather than just arts and culture. In order to address cultural creation of a society by corporate mécénat, it is important to make the public understand that corporate mécénat actually belongs to their everyday lives. To change a society, we need their understandings and supports, not just from corporations.
Q2: An approach to solve social issues sounds new for your association. Do many of you in the association strongly feel its necessity?
Ozaki: In Japan, we are facing social issues such as rural vitalizations or an aging society with a falling birth rate. Creativity which arts and culture foster should make people happy and society better. Connecting social issues and corporate mécénat does lead to establish a creative society. This is what we should address.
Q3: Is there any specific plan in order to accomplish your target of reaching corporate mécénat activity fee to one hundred billion Japanese yen?
Kato: We will encourage young corporations and corporations with no experience of mécénat to take an action. Actually, there are a number of local corporations which have been engaging in rural revitalizations individually. By supporting them, we should be able to reach the target.
Q4: In the proposal, it is stated that "0.3% of corporations' current profits can be credited to cultural expense." How did you come up with this number?
Kato: Based on the results from our annual research for actual condition of corporate mécénat, the number turns to be appropriate when comparing the data of major corporations' mécénat activity fee and their current profits.
Q5: By an installation of This is MECENAT, is your Japan Mecenat Award included in this system?
Kato: A variety of corporate mécénat exists in this world, but Japan Mecenat Award can spotlight only seven significant cases. The system of This is MECENAT is to visualize and certify every mécénat activity exist in the country. From next year, winners for Japan Mecenat Award will be selected from certified activities by This is MECENAT.
Questions raised from various perspectives. The meeting was closed with photo taking of the three. We were quite pleased to be able to introduce our approach of "cultural creation of a society" to the press. At last, we would like to thank the press for joining this meeting.
(2014年4月25日)
公開日:2014年04月25日/最終更新日:2020年03月14日