[Mécénat Writer Report] Vol.2 Pasona Group "JOB HUB SQUARE"
[Mécénat Writer Report]
Company Mécénat Interview
~Cultural and Art Facility~
Vol.2 Pasona Group "JOB HUB SQUARE"
Mécénat Writer: Hanae Takano
—————————————————————————————————————————————
<What is "Mécénat Writer"?>
Freelance writers will make visits and interview members of Mécénat as a "Mécénat Writer". Reporting topics include visits to company's cultural and art facilities, interviews with newly participated members, or Mécénat activities on topic. Mécénat Writer Report series will message ideas and visions by members in charge of the activities with fresh and diverse perspectives of the writers outside the membership.
—————————————————————————————————————————————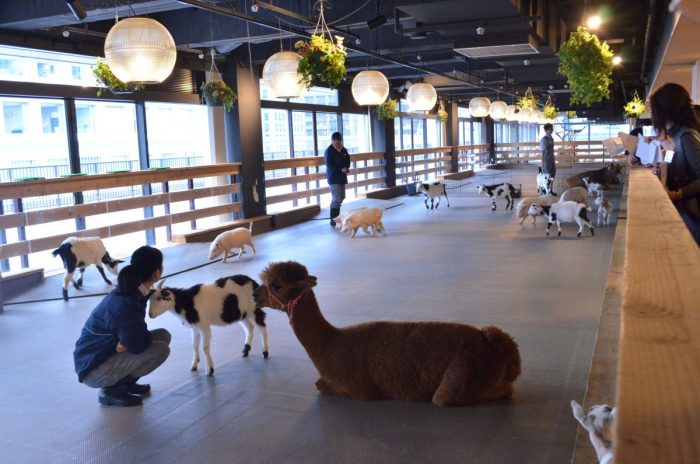 Pasona Group: JOB HUB SQUARE "Otemachi Bokujo"
In late January, I was lucky to join the New Year Party of Kigyo Mécénat Kyogikai, and participated in a tour around the venue; "JOB HUB SQUARE" of Pasona Group. (*Link to Japanese website)
A Novel Urban Farm "Otemachi Bokujo"
On one side of the elevator hall on the 13th floor at the Pasona Group JOB HUB SQUARE, an entrance with the big sign "Otemachi Bokujo" comes into sight. "Otemachi" is a city with many skyscrapers. And a "Farm" is usually somewhere at a vast pasture. The sound of such unusual combination of words rouses my imagination even before entering the place. Once within the entrance, say, jersey cows, pigs, and goats were bleating lively in front of the skyscrapers outside the window. This novel urban farm was created for education and promotion for more interest in dairy farming, by Tango Kingdom Inc. which manages regional revitalization within the Pasona group. They don't just let you get in touch with the farm animals, but also organize learning program events for dietary education, such as an on-the-job-training program, where participants can try making some dairy products. For those who became more interested in dairy farming, an introductory lecture or a possible internship experience at the Tango Kingdom's roadside station "Shoku-no-Miyako" at Kyoto are offered, designed for the participants a clear route for their career. As a whole, this is a facility where a variety of people can learn about dairy farming in a wide span view.
"TRAVEL HUB MIX" Offers Regional Charm Valued Tourist Information in a Community Style
Next I climbed down to the 1st floor for "TRAVEL HUB MIX". This is a community type tourist information center, open to anyone such as foreign travelers, companies and local government officers who wishes to post information within and outside the country, and for those who casually search for sightseeing information. What's interesting, individuals and local governments along with companies use the facility's latest video display system or a live kitchen counter adjacent, and with a new concept like never, organize tourist information events. If they project Google Map on the big screen, you can listen to their talk while viewing the actual scene, and with the live kitchen counter, you can observe the process as well as listen to the narrators' talk on not just about the food itself but also on more stories around the dish. What's more, this is a place where you can get in touch with those narrators in person, making this center a valuable place to find charm that is found through meeting and knowing people.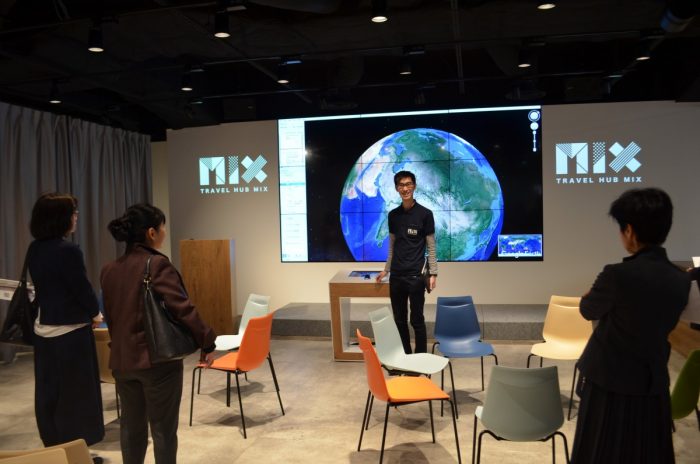 "Art-Mura (Village)" Adding JOB HUB SQUARE A Feel of Art
"Art-Mura (Village)" is situated next to "TRAVEL HUB MIX" with the concept "talent knows no handicap", and sells art works created by the employees of Pasona Heartful who has intellectual handicaps, known as "artist employees". The workshop displays pictures drawn by the artist employees, goods such as files with art work as motifs, neatly assembled pen cases and pouches… Vegetables made without agricultural chemicals at "Yume (Dream) Farm" conducted by Pasona Heartful are also sold at the site.
What amazed me was the quality level of each product. Their high quality items are selected as souvenirs and yearly calendars even by the clients of Pasona. Elevator doors are each decorated by different pieces of art works, and those are completed by the artist employees too. They are creating the atmosphere of art in the Pasona Group JOB HUB SQUARE.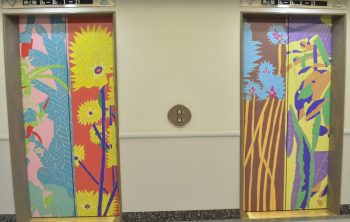 Gym for the Office Workers "@Health+Care"
The last place I visited was "@Health+Care", a gym facility open to all people working within the building of JOB HUB SQUARE. The gym was produced to enhance well-being of office workers, so they provide a fitness course which you can participate in suits, and even nap rooms. For Pasona workers, they have an 8 week fitness program to improve their constitution. Care for their employees' well-being is a trend these days between many companies. This system which enables workers to use one's spare time efficiently would become very handy, and expectations rise for more possible usage.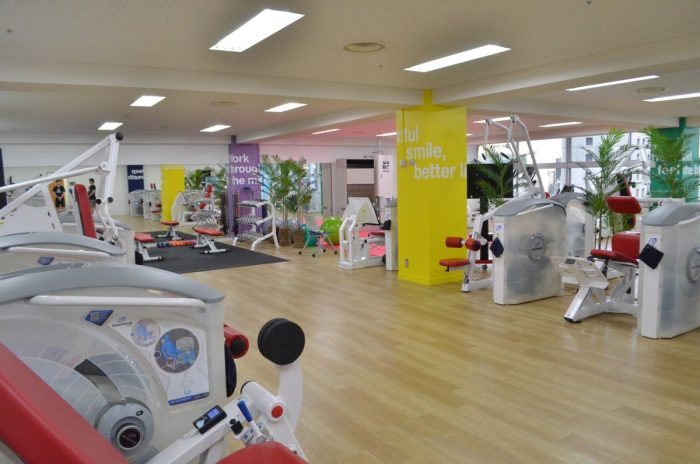 About Pasona's "CSR"
"With the corporate philosophy of providing 'Solutions to Society's Problems', we channel many efforts to harness the potential of the individual, and so our business is equal to our social contribution activity itself" says Masanori Ishida, Senior Managing Director. Since 2003, they have been actively working on the regional revitalization business, and new ideas are born through meeting people and observing the site, which have been giving inspirations to company's business and CSR.
The Pasona Group CSR activity is to support the creation of suitable lifestyle in today's society, as well as a platform where people can flourish, by supporting the diverse style of work. Using the knowledge as a human resource service company, they act as a hub like part to find problems in the society today, design and cultivate suitable staff and place for the problem.
Under the key words of "Health", "Incubation", "Regional Revitalization", a variety of staff from all the group company of Pasona gather at the JOB HUB SQUARE. So I recommend you visit the JOB HUB SQUARE first. An open space entrance with an art piece made with propel and a desk made from engine, meeting space with green farms with vegetable patch, is its entrance. You might be able to gain hints on how to live better in the coming age.
*After the interview*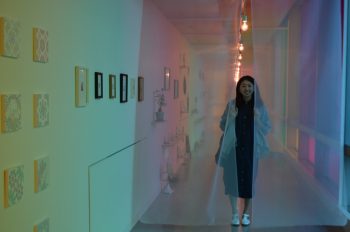 In the morning after the interview, I had the additive-free bread made at the Pasona Heartful for breakfast. The bread had good taste of savory flavor, was very soft and delicious. The rare gapao-flavored meal bread is my best! On my next visit, I'd like to visit the restaurant "Miketsukuni" run by Tango Kingdom at the basement floor of head office. (Takano)
◎Date of interview: 24th January 2018
◎Place visited: Pasona Group "JOB HUB SQUARE"
[2-6-2 Otemachi, Chiyoda-ku,Tokyo]